UPDATE 2022: Unfortunately, IAPS VPN is no longer active. Hence, we no longer updating this article. To see more most updated and active VPN providers, check out our Top 5 Best VPN of the year here!
Original Article:
IAPS VPN is known as the strong security enabling service that offers various services to the users in different countries around the world also offers different privacy and anonymity features for the Internet users. This VPN service provider offers exclusive features to those users who do not get the chance to use some popular websites due to some restriction issues that have been implemented by the respective authorities of those websites. More interestingly, many of the countries around the globe have implemented the traffic monitoring system for their Internet users to ensure that no one can get into the illegal staffs. Therefore, subscription to IAPS VPN will be a better option for those users in order to get access into those geo-restricted websites. If you look through the following IAPS VPN review, you will be confirmed about this statement.
Server Locations of IAPS VPN:
IAPS VPN service has established servers on various locations around the world. This security service has set up their high tech servers that are available in 170 countries such as USA, UK, Australia, Canada and countries from the European Union. Besides, it has been reported that, the company has established their serves even in Laos, Western Sahara and Christmas Islands. However, this service provider has already offered about 17,000 IP addresses for the users which make them one of the leading VPN service providers in the world. Moreover, these wide ranges of server distributions and the number of distributed IP addresses help them to attract users to sign up for their services.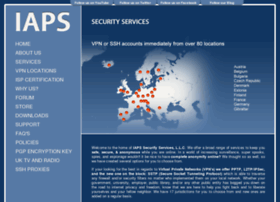 Protocols Support of IAPS VPN:
IAPS VPN service can support all the significant types of protocols that are being used currently. It supports PPTP, L2TP/ IPsec, MPPE, SSTP protocols efficiently without creating any sort of disturbance while encryption.
Speed Test of IAPS VPN:
After doing a test with IAPS VPN, it has been found out that, the net speed is almost similar comparing with other leading VPN service providers.
Pricing Plans of IAPS VPN:
IAPS VPN service has offered different packages according to the service requirements in different locations. For USA users, their VPN service is offered on a monthly basis of payment and they also provides the options supporting all sorts of protocols like L2TP or IPsec, PPTP and SSTP protocols. For USA internet users, the pricing plan is mentioned below:
1.         One month package is offered for $19.95
2.         Three months package is offered for $49.95
3.         Six months package is offered for $79.95
4.         Twelve months package is offered for $109.99
Besides, the company also offers access to their IAPS networks for free and this special service is only for active military personnel and non-profitable organizations. Encryption is usually offered according to the packages that range from 128 to 256 bit.
Setup Procedure of IAPS VPN:
In order to give you a proper idea about IAPS VPN service, the set up procedure must be included in the IAPS VPN review. This service offers detailed instruction for setting up their VPN service by the users. However, setting up procedure varies due to the difference of protocols available for the Internet service. This company offers all sorts of information to their users in their official website, so that users can easily get to know about the processes and all the steps in the processes. Besides, they also offer an exclusive and live remote technical assistance to make sure that you have completed the set up procedure perfectly.
Security Errors of IAPS VPN:
Another important aspect of IAPS VPN review is the security issue. IPAS VPN offers an excellent security support for their users in order to avoid all sort of technical errors while using their VPN service. Moreover, this VPN service has opened up a blog for their users in order get all types of queries from their customers, and at the same time this blog allows the company to keep the users updated about their service plans and new packages.
Why Should You Choose IAPS VPN?
If you have closely followed this IAPS VPN review so far, then you will get an idea about this service provider. IAPS VPN service has been serving to thousands of Internet users around the world. In fact, this VPN service provider offers one of the best available encryption services for anonymous internet usage which makes them an excellent choice for those customers who live in the countries where Internet service has to go through strong firewalls and popular Internet services are blocked down by the government authorities. Therefore, this company is trying to target those customers in order to make them as part of their service receivers. More importantly, many of the business owners from those countries are also looking forward to get this service in order to do their business properly that may not be possible due to restricted policies set up by the respective authorities.