UPDATE 2022: Nokia Symbian platform is now considered obsolete as the whole platform was discontinued around 2013/2014. Hence, we no longer update this article. For more info about VPN apps for latest iOS and Android devices, see our Top 5 VPN Service Providers here!
Original article:
Popularity of Nokia Phones and internet usage in Nokia:
In today's world, if we consider the number of mobile users choosing the Nokia Phone for day to day use, we will see that a major portion of the mobile users are still using Nokia Phones However, in the smart phone range Nokia is still lagging far behind its industry competitors like Apple or Samsung who have extremely popular mobility based products like iPhone, iPad or Samsung Galaxy tab. However, after their inclusion of windows operating system in their new smart Phones, Nokia is now trying to beat the seemingly unbeatable Apple's iPhone. In fact, the major reason for choosing the smart phones over other phones is that these phones provide easy internet access and other web based solutions. And when we talk about internet, the most important issue is the security issue. If you are not able to ensure security while browsing, it might end up in information leakage or system hack that you might not like at all.
How to Provide Security for Nokia while Browsing the Web:
If you want to use your Nokia smart phone for internet usage, you will get quite a few options that would help you to make sure that your web browsing is safe and secure. However, the safest option would be to sign up for a Nokia Mobile VPN. If you do not know already, VPN actually stands for a virtual private network that allows the users with a masked identity by hiding the actual IP address of the user and encrypting all data traffic from the user through a secure and reliable data transfer channel. A VPN for Nokia is basically the best solution for you if you love to use your mobile phone in the places where free internet services like Internet hotspots or Wi-Fi are available. In fact, you probably do not even need to sign for an expensive Nokia VPN like a dedicated one. A share IP VPN will be enough for you for random internet usage.
How to Set Up a VPN Connection for your Nokia Mobile:
Actually setting up a Nokia VPN in a Nokia smart phone that uses a Symbian OS is quite difficult. Since Nokia has only IPSEC client for such connection it is quite difficult to set up a VPN connection. However, Nokia has also started to introduce mobile phones with Windows OS that has a PPTP VPN client. And adding a VPN connection with PPTP client is rather easy.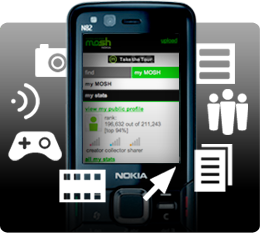 After you get a subscription form one of the excellent VPN service providers offering VPN for Nokia, you will get all the necessary instructions on arranging the environment so that you can start using VPN and ensure security for your mobile device. The most method is that the service provider has some downloadable VPN client or software for your Nokia phone that you have to download from their website and then you need to register and create an account for your VPN usage. And afterwards, every time you want to enable your Nokia VPN service, you simply will have to log in to the service after opening the VPN client.
 Best VPN for Nokia:
There are many services that offer VPN for Nokia mobiles. However, if you want to experience a real good service quality, you would definitely want to get subscribed to one of the best services in the current market. Based on users' usage experiences and reviews, the following list can be determined as the best providers for Nokia VPN.
| | | |
| --- | --- | --- |
| Rank | Provider | Starting Price |
| 1 | Hidemyass | $6.55/ Month |
| 2 | ExpressVPN | $8.32/Month |
| 3 | StrongVPN | $21/ 3 Months |
| 4 | IAPS | $8.32/Month |
| 5 | VyprVPN | $14.95/Month |